Improve Diversity Outcomes through Talent Assessment & Development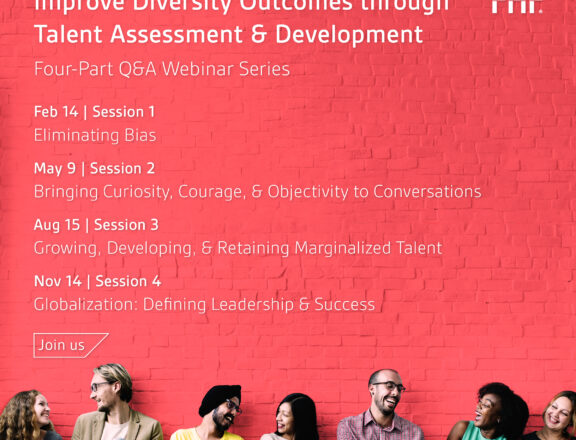 Diverse talent leaving the business. No real shift in representation. Marginalized communities underrepresented on development programs. There are many symptoms that suggest a diversity-and-inclusion strategy isn't making lasting change.
If you're a leader and interested in learning more about making better progress toward creating an equitable place to work, RHR International's 2023 webinar series is for you.
This four-part webinar series is an opportunity to look at holistic talent management rather than piecemeal diversity-and-inclusion initiatives. We'll share best practices for creating an equitable place to work.
Session 1 | February 14, 2023 at 11:00am EST 
Is it Possible to Eliminate Bias from Talent Management? (Spoiler alert! The answer is no, but we can do better.) 
Humans are biased, as are the processes we create. How can we create guardrails and best practices to help solve one of the hardest talent challenges of our time?
Session 2 | May 9, 2023 at 11:00am EST
How to Bring Curiosity, Courage, and Objectivity to Talent Conversations 
Talent conversations are typically unstructured and guided by anecdotes shared by the loudest voices in the room. How can we shift these discussions to deliver equitable outcomes our talent and DEI strategies are striving for?
Session 3 | August 15, 2023 at 11:00am EST
Growing, Developing, and Retaining Marginalized Talent
Placing diverse talent in key roles is just a small part of the equation—and despite how hard this is, it might be the easiest part. How can we create long-term benefits for diverse talent by being intentional around how we purview, orient, and advocate in these conversations?
Session 4 | November 14, 2023 at 11:00am EST
The Globalization of Talent: Expanding our Definitions of Leadership and Success
Leaders are increasingly finding themselves leading and serving as part of globally diverse teams. In addition, global fluency is increasingly important as companies must look to markets with younger consumers, greater untapped market share, and faster economic growth. How can we shift our definition of leadership to drive inclusion and belonging?