How to Bring Curiosity, Courage, and Objectivity to Talent Conversations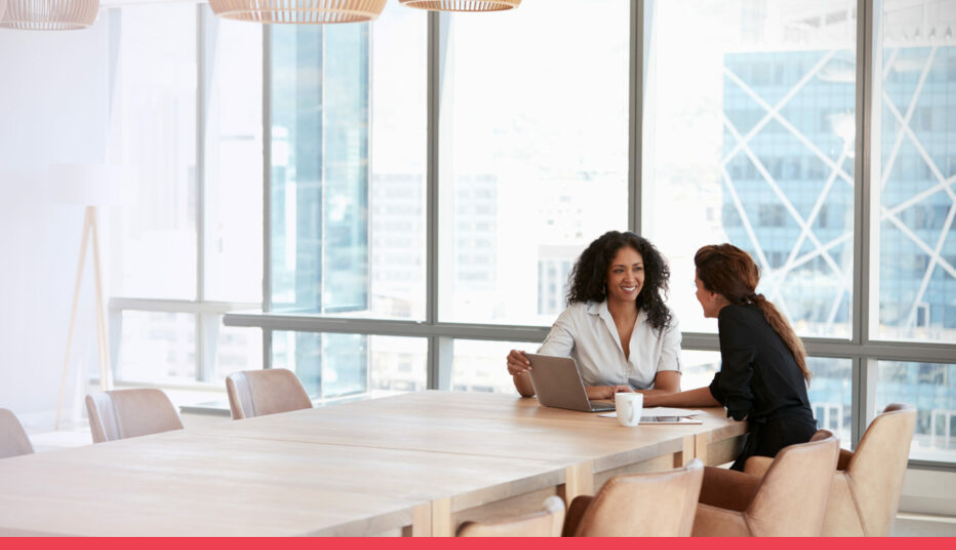 Future talent and succession planning are high on the HR agenda. RHR's Dan Russell and Cristina Jimenez recently hosted an online session where they discussed how to bring curiosity, courage, and objectivity to talent conversations in order to drive equity, insight, and clarity into talent management processes.
Diversity in the leadership pipeline is starting to enter the conversation, and it's widely accepted that if the next generation of leadership is too homogeneous, it will damage company culture and performance. However, many talent processes perpetuate bias and hamper the extent to which leadership can become more diverse. Improving diversity in the leadership pipeline requires talent processes that enable managers to have healthy conversations with the right boundaries and structure in place.
In this article, we highlight the key issues raised by Dan and Cristina and propose three ways to have more healthy talent discussions with the right people in the room.
Conversation versus Competition
In many instances, conversations about who to develop become a debate about who is most ready right now for the next step. This approach often devolves into competition between managers, forcing them to justify their assumptions and triggering biases, which creep in due to an absence of data.
Talent discussions should be meaningful conversations about the people making the business successful and should reveal assumptions, create shared meaning, and align purpose. A healthy conversation allows for a fluid discussion about readiness for the next career move along a continuum rather than a "high potential or not" dichotomy.
The Problem with Potential
Many organizations still use models such as the 9-box, which are overly complex and do not focus on the right talent. Models that identify high potential can differentiate high-value talent to some extent, but they're insufficient for measuring enterprise capability. High-potential models are often based on a narrow definition of success and can create false expectations by confusing potential with the ability to do more and tend to overrely on past performance.
A better model is one where the focus is on growth, strengths, and opportunities and in which there is an objective view of capability informed by data to challenge biases and favoritism.
So, how do we get to a place where the right people are part of the conversation and we are telling the right stories? Dan and Cristina shared three areas where HR teams can focus their efforts around creating equity in talent processes.
Designing More Equitable Talent Processes
1) Simplify the approach so you spend time in the right places
By dissecting the 9-box model and looking at the groups that might not ordinarily be in the "high potential" category, we may uncover undervalued sources of talent—the "potential gems" who might not be in a right-fit role, the "core players" who are not getting the right opportunities, and the "solid performers" who may just not fit the accepted leadership mold.
2) Leverage data to inform more healthy conversations
Without data, conversations about development are laden with the biases of the people making decisions. To bring more objectivity to the discussion, data is vital. Once the common metrics for determining a leader's readiness have been agreed upon, companies must use rigorous, fair assessments to inform their discussion about a leader's gaps and potential. Discussions around a person should stay focused on facts and requirements—any introduction of anecdotes and stereotypes into the conversation should be called out. For example, stories that perpetuate that a certain background, experience, and norms equate to success need to be examined and challenged.
3) Curiosity is the secret sauce
When leaders are curious, they are more able to work through their biases, spend time building trust, and remove favoritism from the way they work. Dan and Cristina offered up some questions that leaders involved in talent conversations can ask themselves to examine the way they make decisions, including:
Am I overly comparing others to a single definition of success or person?
Am I overindexing on my own career path and experiences?
What do I mean when I say presence, strong leadership, and an effective communicator?
Where did the story about this person come from? What data do I have to support it, and when and where is this data from?
Is this person what and who we are used to seeing?
What is making me uncomfortable? What might I lose if leadership looks and behaves differently?
By focusing on these three areas, HR leaders will be able to bring more curiosity, courage, and objectivity to talent conversations and, therefore, make more equitable talent decisions. This webinar was the second in our series of webinars on improving diversity outcomes through talent assessment and development.
You can register for the next session and listen on demand to the previous sessions here.