Leading a Company? Make Sure Your Journey Isn't a Solo Expedition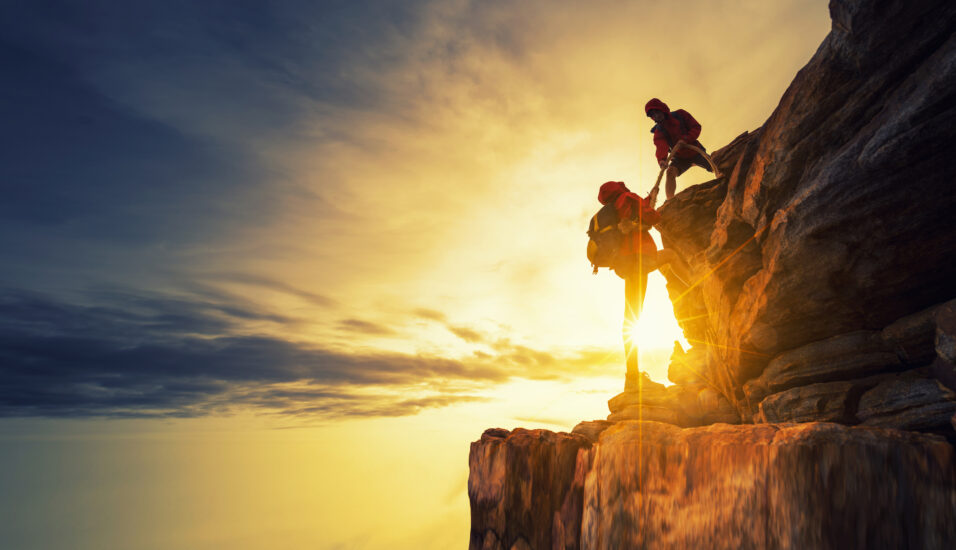 Marc: "Do you know the best thing about startups?" 
Ben: "What?"
Marc: "You only ever experience two emotions: euphoria and terror. And I find that lack of sleep enhances them both."
(Conversation between Marc Andreesen and Ben Horowitz from The Hard Thing About Hard Things by Ben Horowitz)
Leadership done well is a lonely endeavor. Our own research at RHR International found that about half of all CEOs experience loneliness, and 61% of those leaders believe it hinders their performance. If you happen to be the CEO of a startup or scale-up, the added stress of staring down existential risk on a daily basis while steering your company through exhilarating highs and soul-crushing lows can amplify these feelings of isolation. 
The best (and least sleep-deprived) entrepreneurs understand they can't successfully navigate this landscape of emotional extremes as a solo expedition. They recognize that above and beyond their teams, families, and friends, they need a network of trusted experts they can turn to for specialized help and advice. Most of the hypergrowth founders and CEOs we know enter into relationships with mentors, coaches, advisors, and therapists at key inflection points or for extended periods of time on their journey to achieve scale and become more resilient, capable leaders. Below is an overview of what each of these relationships can provide and tips for determining how to find the right partners for you in each category.
Executive Coaching
What it is—A structured relationship designed to make you a more effective and versatile leader. Great coaches help you acquire the mindset, tools, and skills you need to be successful. They take into account your goals and priorities as well as the leadership demands of your company and craft a plan that helps you excel in current and future roles.
What it's not—Great coaches may occasionally give you advice, but their main job is to ask good questions, make observations, and offer insights that prompt you to shift your perspective, strengthen your self-awareness, and increase your impact as a leader. 
How does it work? A typical coaching engagement lasts six to 12 months. It begins with an in-depth biographical and company history interview so your coach can begin getting to know you and your company in a more three-dimensional way as well as 360 feedback interviews with key stakeholders. Together you'll use that data to create a development plan that includes specific learning objectives, the steps you'll take to achieve them, and the results that will follow. In addition to meeting with your coach at regular intervals (typically two times per month) to drive progress and troubleshoot challenges, your coach will give you resources to help you acquire specific skills related to your goals.
Why hire an executive coach? A successful coaching relationship enables you to become more aware of your strengths and blind spots and understand how others experience you so you can leverage what's working, address what isn't, and cultivate the behaviors and habits you need to scale yourself and your company. Coaches bring accountability and a consistent cadence to your professional development journey that mentors and advisors might not. 
Next steps—When it comes to selecting a coach, getting the fit right is a prerequisite to building a successful relationship. RHR's guide, "The Power of Coaching," is a great place to start when considering how to choose a coach.
Mentoring
What it is—An informal relationship with someone who is typically further along in their career or who possesses specific wisdom, experience, or skills you want to acquire. Mentoring relationships can often become reciprocal, as you may have knowledge or insights that your mentor values, and may evolve over time into a friendship.
What it's not—A contractual or transactional relationship that involves payment. 
How it works—Regular conversations on either an ad hoc or structured cadence. Many founders also put mentors on their advisory boards.
Why have a mentor? A good mentor will help you make better decisions, see situations from a fresh perspective, be more prepared for future challenges, and grow both professionally and personally.
Next steps—If you don't already have someone in mind as a mentor, think about the specific attributes you want your mentor to have and then tap your network to generate potential candidates. Well-connected board members or investors are also a good source of ideas and warm introductions.
Advising
What it is—A contractual, time-bound relationship that provides you with access to advice, expertise, and hands-on support to drive outcomes that you lack the internal resources to achieve on your own. Advisors learn about your goals, priorities, and the specific challenges your company is facing and then offer a clear, comprehensive plan to address them. If needed, they can also provide tactical and strategic support to lighten your execution burden so you can stay focused on running the day-to-day business. 
What it's not—Inquiry-based discussions designed to help you initiate changes to your behavior, style, or approach to being a leader.
How it works—An engagement typically begins with information and data sharing, which enables the advisor to create a work plan that lays out the desired outcomes, a step-by-step guide to achieving them, and a clear division of labor for how the work will be accomplished.
Why retain an advisor? Successful outcomes include the optimization of a specific process or function, ongoing risk mitigation, and/or the implementation of a strategy that leads to a desired end goal. For example, a company that is planning to go public might retain a financial advisor to design and implement a multifunctional work plan to prepare the company for its IPO.
Next steps—Peers, board members, investors, and others in your network will likely be able to point you to specialized advisors whom they've worked with before or who come highly recommended by trusted referral sources.
Therapy
What it is—A paid relationship with a licensed professional who, over a period of months or years, will help you identify and address mental health challenges and other cognitive, emotional, or behavioral issues that are adversely affecting your quality of life and ability to function at peak performance. Depression, anxiety, and addiction are common presenting issues for entrepreneurs. Other good reasons to seek out therapy include the desire for healthier, more meaningful relationships, the need to process unresolved trauma or conflicts from your past, or the quest to feel happier in your day-to-day life. 
What it's not—A quick fix solution to feeling better or for getting tips about how to become a more effective leader or acquire specialized expertise.
How it works—Therapeutic relationships typically involve sessions on a weekly basis, although that can vary. While there are many different types of therapy, many involve a significant focus on the past, including your family of origin and other significant relationships and experiences that shaped who you are as a person. 
Why attend therapy? Forging a strong, trusting relationship with a good therapist will give you greater self-knowledge and strategies to manage the thoughts, feelings, and behaviors that are getting in the way of your ability to achieve your goals. That includes developing healthy coping mechanisms to handle the periods of extreme stress and anxiety that are an unavoidable part of your job.
Next steps—Ask your physician or others in your personal network for referrals. You can also search for licensed therapists through a national association such as the American Psychological Association. 
Finally, in addition to one-on-one support, the value of peer learning networks shouldn't be overlooked. The opportunity to brainstorm, problem-solve, and recharge in a safe space with trusted equals provides moral support, inspiration, and even friendship. In this previous blog post, I highlight the value to leaders of surrounding themselves with fellow travelers who are on the same path.
What type of support do I need?