Working in Fear: Moving from Uncertainty Toward Trust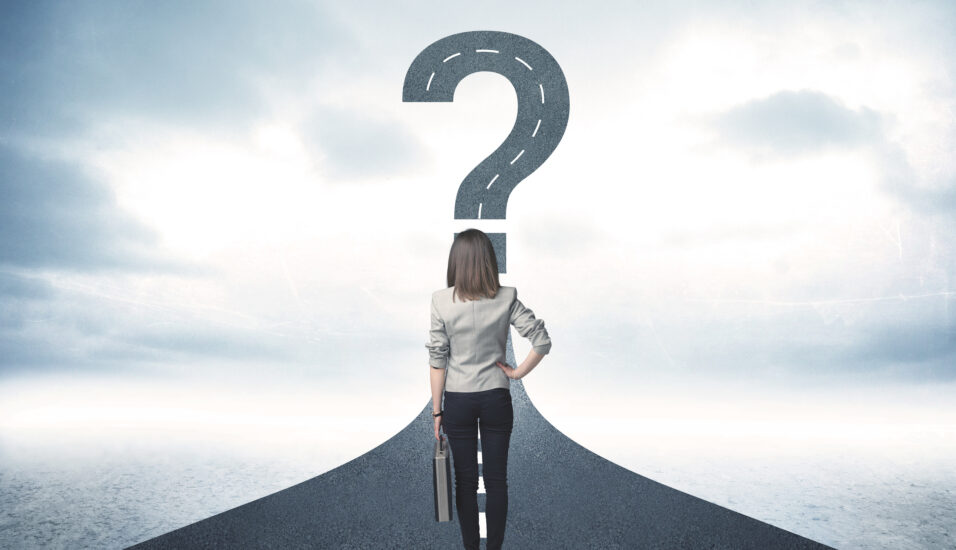 Corporate environments are often defined by an inherently competitive environment where clarity on how to be successful becomes increasingly more difficult and information becomes increasingly scarce as employees climb to higher levels. Leaders find themselves lacking critical conversations and are left with unanswered questions about how to navigate their careers. Even in the most rich and open-feedback cultures, employees often live in ambiguity. It is evident that the best feedback mechanisms are unable to consistently and honestly answer the questions that cross an executive's mind—and executives are left with their own personal assumptions about what success looks like. In the best environments, leaders struggle to feel assured that the answers they are given are actionable or that they clearly understand expectations. In the most feedback-scarce environments, clarity is often provided to only a select set of individuals who may feel a deep sense of belonging while their peers feel excluded. Many leaders struggling with a high degree of uncertainty are left wondering about their future, their path to success, and whether they will be able to accomplish their personal goals within the organization. The impact of this uncertainty begins to translate to fear—the fear of failure or the fear that whatever they do will not be enough to achieve their goals.
There is a great deal of research on fear and its impact on physical, mental, and emotional well-being, but I prefer to keep things relatively simple to make the point. In its most basic form, fear drives either a fight, flight, or stop response in all of us—none of which are productive to leadership growth or organizational agility.
Fight: On the positive side, this appears as drive, ambition, or a strong focus on execution. More often, it shows up as overly self-interested, competitive, an aggressive pursuit of one's goals, or an overall scarcity mentality.
Flight: On the positive side, this appears as independence or a strong external perspective. More often, leaders appear disengaged, uncommitted, and uninterested in enterprise roles or contributions.
Stop (deer in the headlights): Leaders frozen by fear and uncertainty are the least productive. Often struggling to make sense of their current situation, they reach for any available data, create inaccurate stories, and fail to act in ways that allow them to demonstrate their true potential.
I would ask us to consider the impact of this uncertainty on marginalized executives—leaders who fall out of the norm within their organizational or predominate culture. For example, these individuals may have a different background, race, sexual orientation, or culture, often growing up in a unique socioeconomic environment or in a different country. Imagine feeling as if you are already excluded, struggling both to understand how to adapt to the predominant culture and to manage through ambiguity and uncertainty. The result is an intensification of fear and its impact on individual performance.
What Can We Do?
The most critical and important set of actions does not focus on providing additional feedback mechanisms or online career ladders or checklists for how to navigate the organization. I am not advocating for the removal of these processes or tools; they are an essential part of corporate hygiene and provide the foundation leaders need.
Instead, I will go in a different and likely unexpected direction. Fear and uncertainty are base emotions that affect us on the most human level. As a result, our actions must be more human. Executives must build a deeper foundation of trust with the talent in their business. Leaders must feel both seen and understood. Maximizing the strengths in teams means that we connect to the potential and capabilities in all employees. Executives have taken the time to understand what motivates, drives, and shapes their leaders. Now they must build connections that allow for conversations to focus on both the intention and impact of behavior and performance, not just the impact. Ultimately, this will create an environment where diversity is additive and the talent feels free to be authentic and look for opportunities to add value.
A few tips:
Be disciplined and structured about the frequency of your meetings. Move away from the formal HR checkpoints as the only check-ins on how someone feels about their career.
Ask meaningful questions about who individuals are, what inspires them, and what success would enable them to accomplish in their lives.
Conduct sessions with the team to identify the myths within the culture on talent decisions.
Be courageous enough to ask individuals how they feel or what their biggest source of stress is.
Be willing to share stories about who you are, and create space for others to talk about the meaningful events that have shaped their lives.
Most importantly, ask for help. Building trust both one-on-one and across the team is an executive muscle that must be exercised. Consider measuring trust across the organization and bringing in an expert to help develop an open and inclusive environment.
Leaders have a remarkable opportunity to create a sense of hope, optimism, and followership with their teams, mitigating fear and building agile, productive, and inclusive environments.