Female leaders excelled in crisis mode. Now we need to win them back.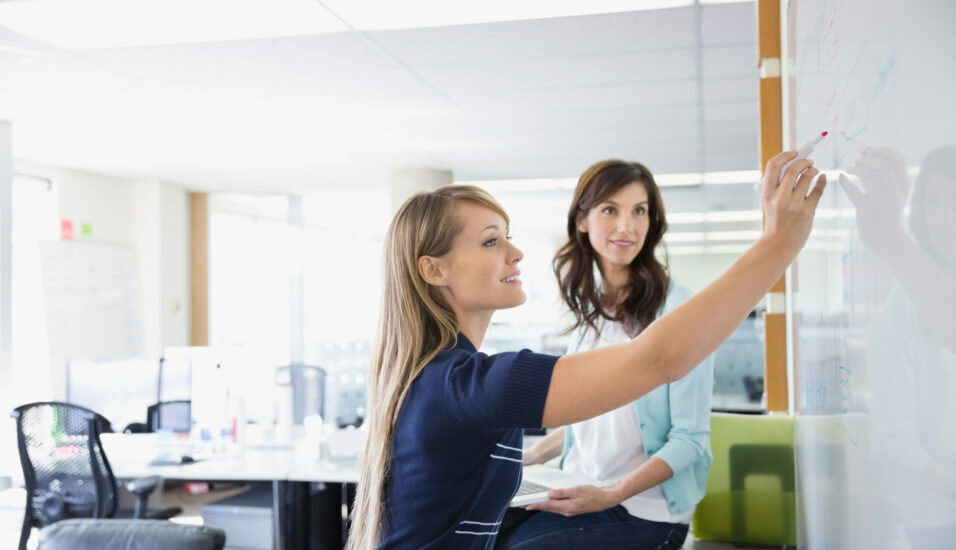 The shockwaves sent through our lives over the last two years caused personal and professional trauma for many of us. At a time when organizations needed to be human and compassionate yet also agile and resilient, female leaders shone, simultaneously supporting employees and steering strategy when there was no blueprint for leading through a global health and social crisis.
However, research by McKinsey and Company shows that more than one in four women are contemplating downshifting their careers or leaving the workforce completely. As a result of the pandemic, the estimated amount of time it will take to close the global gender gap has increased by an entire generation, from 99.5 years to 135.6 years.
We need to act now to avoid a devastating talent loss that would undo the progress made in recent years to increase female representation including that of women of diverse identities.
Female leaders in crisis mode
In the fight against the pandemic, female leaders excelled. Nations with female leaders reacted more quickly and in some cases had half as many deaths from COVID-19 as male-led countries. On climate concerns, too, female leaders take action more readily; female representation in government corresponds to stronger climate policies and lower carbon emissions.
Success in crisis mode is mirrored in the corporate world. Female leaders are doing more than men in similar positions to support employee well-being, for example by helping team members navigate work/life challenges and ensuring that their workloads are manageable.
Female leaders also spend more time than men on diversity, equity, and inclusion work that falls outside their formal job responsibilities—for example, being more active allies to women of color then men and more likely to speak out against discrimination.
Is this because female leaders are better at doing hard things in a human way? This is certainly what research by author Jacqueline Carter found (featured in this webinar for Harvard Business Review).
Female leaders doing hard things in a human way
During the pandemic, leaders were called upon to navigate their teams through waves of grief, anxiety, and uncertainty and help protect their mental health and to show their own vulnerabilities along the way.
As we emerge from the economic and health crisis, leaders are having to think about how they help their organizations heal. Stress, anxiety, and loss have all caused trauma in people's lives inside and outside work. Here, too, compassionate leadership is called for, and women are leading the way.
But despite a need for the type of leadership that female leaders offer, an alarming number of women have left or are considering leaving the workforce.
The collateral damage to female leaders
In the first 12 months of the pandemic, 54 million women around the world became unemployed. Of the women who lost jobs in 2020, almost 90 percent exited the labor force completely, compared with around 70 percent of men. By September 2021, McKinsey & Company reported that 25 percent of women were contemplating downshifting their careers or leaving the workforce completely.
In corporate America, female leaders are more burned out than they were last year—and increasingly more so than men. This is further compounded for women of color, especially Black women, who already faced more barriers to advancement than most other employees and had to cope with the disproportionate impact of COVID-19.
The damage is not only to the careers and families of these female leaders but also to the teams they lead and to future generations of employees as gender parity takes a step back. Businesses will also suffer; companies in the top quartile for gender diversity are 25 percent more likely to have above-average profitability than companies in the fourth quartile.
There is no short-term solution (as there wasn't before the pandemic), but as we shape a new story for our organizations in the post-COVID-19 world, there are steps we can take to rebuild what we've sadly lost on gender balance.
Addressing the leadership gender imbalance
To address the gender imbalance, we need to improve how we select and recognize leaders. Many of the traits of good leadership are more often associated with females. By rewarding and promoting good leadership behaviors, we will, in effect, improve the gender balance.
An interesting piece of research by organizational psychologist Tomas Chamorro-Premuzic asks why so many incompetent men become leaders. His perspective is that our inability to distinguish between confidence and competence, our love for charismatic leaders, and the allure of narcissism have led to a surplus of leaders who are unaware of their limitations. The dark-side traits associated with this type of leadership are more often evidenced in men.
To rebalance gender in leadership positions, we must rethink what good leadership looks like. As a start:
Recognize and promote leaders who demonstrate the traits that impact positively on engagement and commitment such as humility, integrity, and empathy. These traits are more often associated with females.
Encourage and endorse leadership that is self-reflective, curious, and observant. Inclusive leaders are courageous enough to learn, make mistakes, and have difficult conversations. These behaviors should be supported and not viewed as less valuable than narcissistic traits that are often celebrated and admired.
Use leadership styles that show vulnerability and model compassion. As Chamorro-Premuzic comments, we shouldn't ask women to behave more like incompetent men. And likewise, we shouldn't rule out men if they don't meet our flawed male archetypes.
 
Shaping a new story for your organization
The work of the leadership team is changing, and teams are operating in a new environment. The people who make up the senior team are likely different from those who were there two years ago. As we shape a new story (who, what, why, how) for our organizations, there is an opportunity to win back some of the lost ground.
Organizations that are committed to thriving in the future will act now to improve gender balance at all levels, from early career to the executive team.
For another view on female leadership, Maja Egnell shares her thoughts on how gender bias affects female executives and what they can do about it in the post Gender Bias: Balancing on the Tightrope.