Board Governance Dimensions: Which Correlate Most with Positive Organizational Outcomes?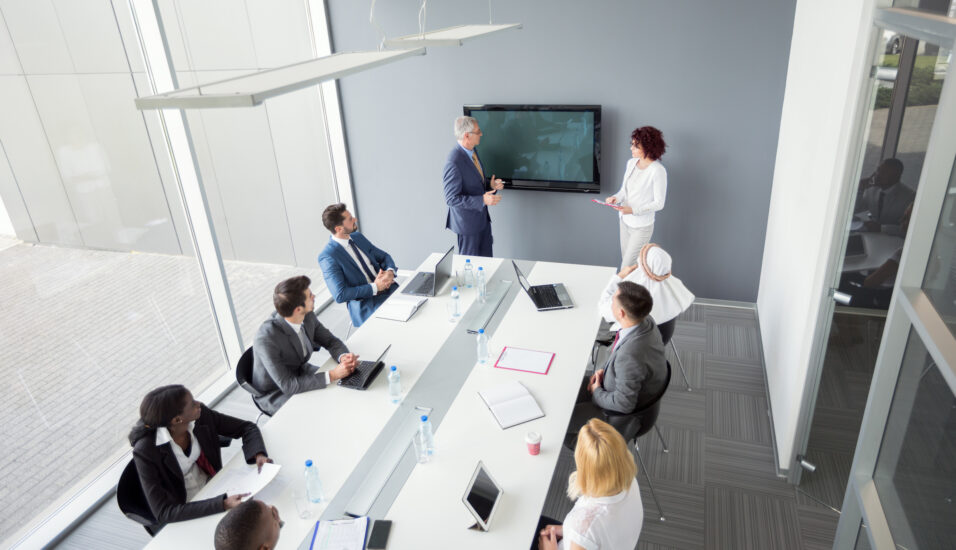 Beyond fulfilling a compliance requirement, board evaluations can be a great tool for helping boards elevate the value they contribute to the organizations they govern. The process for conducting board evaluations usually involves a survey of directors with questions about a range of governance practices. In constructing RHR International's Board Development Survey, we took this approach a step further as a complement to our interview-based method: we correlated items with board member ratings of key organizational performance dimensions such as market share, profitability, employee engagement, and quality of products and services.*
So which items correlated most highly with ratings of those key organizational performance dimensions? The answer: the ones pertaining to the partnership between the board and CEO. In particular, the items concerning CEO compensation, candid and open communication, and effective partnership built on trust had the strongest relationships with these performance outcomes. Here are the three most important things we found:
CEO Compensation: When the board believes that CEO compensation is well aligned with shareholder interests, the organization is more likely to be rated by board members as higher in profitability (r =.40), quality of products and services (r = .34), and employee engagement (r = .33).
Communication: When the CEO communicates more candidly and openly with senior management and the board, the organization is more likely to be rated by directors to have stronger employee engagement (r = .26) and profitability (r = .25).
Trust: When CEO/board partnerships are fundamentally based on trust, the organization is more likely to be rated higher in profitability (r = .28) and employee engagement (r = .27).
This data confirms findings from board evaluations RHR has conducted for clients. At Mastercard, where the board and governance practices are best in class, the partnership between the CEO Ajay Banga and the board is rock-solid and characterized by a high degree of mutual trust. Dialogue in the boardroom is open and candid. The CEO and board chair have built a very strong working relationship that enables the company to benefit from the advice and counsel of a diverse, highly knowledgeable, and committed group of directors.
When comparing the results of our Great Boards benchmark group (the top 25% of organizational performance ratings) to the bottom 25%, we found significant differences between those who responded either "agree" or '"strongly agree" on the following items: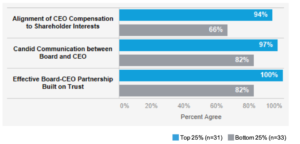 What are some of the implications of this research for business practice? First, knowing the level of scrutiny given to CEO pay practices, the board needs to be able to tie compensation to concrete and measurable outcomes that go beyond share price. For example, the scorecard we use in our CEO evaluation service includes metrics for financial performance, people and culture, strategic direction and innovation, reputation management, and personal leadership.
Effective communication is another important area of focus for productive CEO/board partnerships. It is critical to establish two-way communication channels to ensure that everyone is aligned with the overall business strategy. In many situations, the board is isolated from the business and serves mainly as an advisory body for the CEO. By opening up channels of communication between the board, CEO, and senior management, leaders in the business can benefit from the board's expertise while the board can gain insight into the operational effectiveness of the organization. Similarly, the CEO can benefit from regular contact with the board chair and other board members to gather opinions and provide updates so that everyone is kept in the loop.
Fair compensation and regular communication can serve as building blocks for the most important aspect of CEO/board partnerships—trust. Trust takes a long time to build and can be dismantled in an instant. To build trusting relationships, both the CEO and board members have to be aligned in their interests, but more importantly, they have to behave in ways that are mutually beneficial. A CEO who controls the board is not maximizing an important resource. Similarly, the board members need to support the CEO by providing clear objectives, regular oversight, and helpful advice in ways that can be heard and adopted. Trust builds between a CEO and the board by working together over time to build a partnership that advances the business and drives financial success.
*RHR's Board Development Survey consists of 55 items across seven dimensions of governance. The original database was compiled from the responses of directors who collectively serve on 120 boards of midcap and large-cap companies. For the full survey results, please contact kgilson@rhrinternational.com.
This article was originally published on the Corporate Board Member website.