Cultivating Diversity, Inclusion, and Belonging in the Workplace: Insights from Marvin Rees, Mayor of Bristol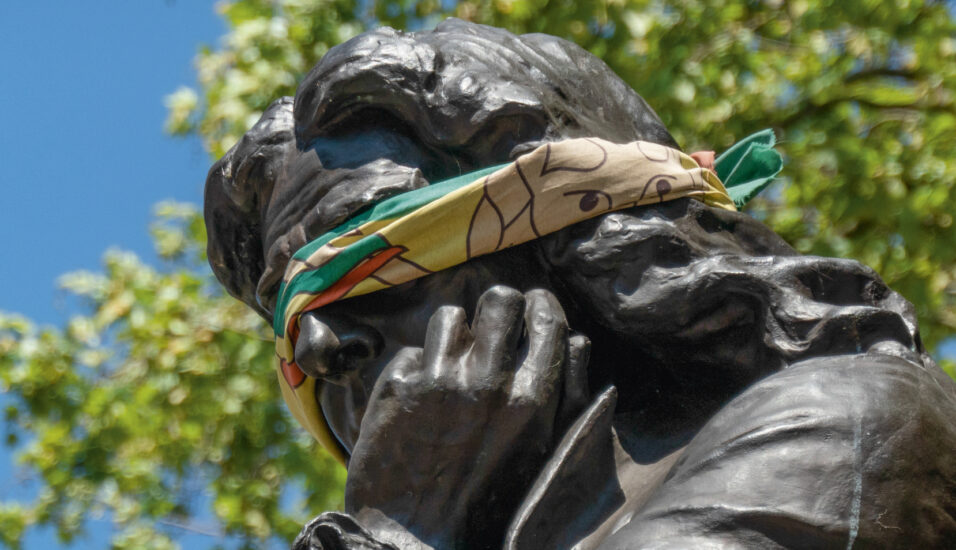 We recently had the pleasure of interviewing Marvin Rees, a British Labour Party politician who has been the mayor of Bristol since 2016. His approach to his role as mayor can be described as fair, informed, and wise. As the first Black mayor of a major city in the UK, he brings a unique approach to diversity, belonging, and inclusion that can become deeply personal at times.
A real-life example of this is now being covered in the BBC documentary Statue Wars: One Summer in Bristol, diving into the extraordinary events which followed the toppling of the slave trader Edward Colston's statue last summer. Colston's memory had divided Bristol for years, with many campaigning successfully for his name to be erased from streets, schools, and venues. However, an ensuing right-wing counterprotest was sparked. 
Rees went to the counterprotest in order to talk with those in attendance. He explained that though he agreed with the sentiment behind the statue being toppled, he could not endorse criminal damage. He discovered that the counterprotest attendees felt they were "losing their city." A conversation ensued in which Rees was able to highlight rising house prices and inaccessible services as being the true cause of cities around the UK being lost. This example of open communication within leadership is one of the many ways that Rees embodies leadership lessons in his role. 
We discuss key points from our interview with Mayor Rees below. These lessons are useful for organizations, boards, CEOs, and CHROs around the world that ask themselves: 
How do I build a diverse pipeline of executives that are ready for my most senior roles?
How do I integrate diverse skills, talents, and capabilities into my culture?
How do I define behaviors and transform leadership in the business to be more inclusive, globally fluent, innovative, and competitive?
How do I develop broader and more objective insight on my talent so I understand the strengths and gaps in my business?
How do I coach my leaders to become true allies and sponsors of my diverse talent in order to accelerate career growth?
In his interview, Rees spoke candidly with RHR International Partner David Langdon, and together they discussed how leading difference is a skill that every modern leader must have. Diverse teams bring new and valuable perspectives to the table. The inability to lead difference can be the undoing of diversity programs and organizations as a whole. As a result, businesses must learn to foster diversity of thought in order to capitalize on the real opportunities within their talent pipelines.
 "Revolutionize your view on talent and stop making assumptions." 
RHR International Partner David Langdon
Marvin Rees makes the point that business leaders need to be involved in the development and advocacy of policy. While business and local policy may seem unconnected, they are anything but. The talent pipeline comes directly from the towns in which this policy is carried out, meaning that poor quality housing, deteriorating mental health, and a lack of access to critical services all impact a business's talent pipeline. There is a growing responsibility for leaders to engage in the sustainable and social space. Leaders must think holistically and understand that good-quality policy leads to well-rounded talent.
Talent Spotting
Leaders should be held accountable for developing and supporting differences within their organizations, and looking for talent in unexpected places with no assumptions is key. RHR International's Readiness for ScaleSM assessment model helps organizations holistically assess untapped and often undiscovered talent. We help senior leaders break down barriers and assess all of their talent across the critical areas of the business, enabling them to look at underlying qualities that are much harder to see and quantify. The larger the organization, the greater the risk of being able to mop up the negative and long term consequences of having undiscovered talent. 
All too often there is a cultural collusion around what leaders should look like. That creates a narrowed lens. An astonishing example of this is reported in this BBC News story about a survey conducted by the UK's Social Mobility Commission, which describes how senior leaders in the UK's civil service sometimes jump mid-conversation to speaking Latin. If you can play along with this cultural code, then you must be one of us; there's no threat to the established way. Inclusive? I think not. Elitist, narrow, and protective? I think so. 
Leadership Qualities
RHR has identified the following leadership traits of an inclusive leader: 
Learning Agile: proactively engages in learning; willing to ask questions, be uncomfortable, and create space to be taught; seeks to understand others
Culturally Fluent: embraces differences and proactively leverages diversity; adjusts approach and style to demonstrate connection and understanding across cultures/difference; looks for opportunities to fully engage in new experiences; considers the subtleties of communication when addressing diverse audiences; creates a culture of belonging and psychological safety
Leads with Humility: understands and has connected to their own identity; acknowledges mistakes, misspeaking, or lack of knowledge; wields power thoughtfully and considers the impact on others; connects to others through storytelling,
Interpersonal Courage: calls out biases—their own and others; challenges norms/long-held beliefs (operating norms, talent decisions); actively seeks out and dismantles systemic obstacles and barriers that keep people of difference from being successful; is conscious of privilege and creates mechanisms/processes that ensure equal opportunity.  
Martin Rees breathes fresh air into the dialogue. His leadership, while not purist-corporate, is refreshingly direct. That declarativeness is needed if you want step change. 
RHR encourages leaders to steer away from complacency, not to make assumptions, and to inspire them to think differently. Businesses attract and retain the best talent when they truly value each unique individual for what they can deliver. The unit of success is no longer just the individual and the organisation, it is also societal. Leaders who see the whole and can operate at that enterprise level are the ones who will make a difference longer term.
View our full interview with Mayor Marvin Rees here.