Naomi Titleman—Talent Strategist, Future of Work Enthusiast, and Change Champion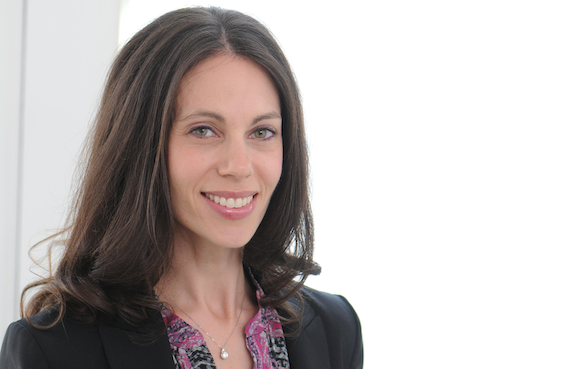 Naomi Titleman is founder and principal of Collaborativity Leadership Advisory, a Toronto-based consultancy focused on driving progressive talent strategy in this new world of work. She is an award-winning HR executive with laser focus on the employee and customer experience, and she partners with leaders who want to maximize business performance through progressive people strategies. She is one of Canada's foremost thinkers on the future of work, and we wanted to check in with her on several related questions that our clients are asking.
RHR's Guy Beaudin asks her some questions below:
Guy: We hear much about the future of work. Much of it centers on the effects of technology. We don't hear as much about what this means in terms of the skills required to be successful in the digital economy. What is your perspective?
Naomi: In order to be successful in this new world of work and not become irrelevant, there are three categories of skills that I believe are critical to develop:
1) Human or leadership skills: Many jobs will not completely disappear, but most will morph. Developing fungible, "human" skills will make you harder to automate and more valuable to organizations for two primary reasons:
You are more able to work and lead across industries, functions, and roles
Robots haven't yet mastered the art of empathy or persuasion; whether jobs or skills require eye contact is a good litmus test for likelihood of automation
2) Digital literacy skills: Digital literacy has become a fundamental skill as digitization is integrated into almost all jobs and functions. As automation gets smarter and takes on more tasks, we will need to up our game in skills such as curiosity, critical thinking, advanced analytics, user-centered design, mathematics, and statistics. As well, root causal analysis will become more and more important across functions and levels. Also, while not everyone will be expected to have coding skills, we will all need a basic level of digital literacy.
3) Tech skills: Evolve actively because your competition is no longer only fellow human full-time colleagues (say hello to Bot435 and the "crowd"). Stay curious and commit to lifelong learning and development. Jobs are changing and new job types (and university degrees and certificates) are emerging every day. For those interested in getting deeper into the tech world, coding is now a more attainable skill, not just for computer scientists … both because of the simplification of computer languages and also with the emergence of mainstream coding courses offered through companies such as Hatch.
Guy: Even with all the changes occurring in the world of work, it seems that most of our clients are operating in a fixed paradigm of one role, one person on a full-time contract. What are you seeing in terms of alternative work arrangements and what benefits do you see them having, both for the individual and the employer?
Naomi: Ah yes, thinking about the good old days when staffing was much simpler. Back then, the "personnel department" would gather some résumés, conduct a few interviews, hire the best full-time (human) employee and we would all get on with the job.
Now, thanks to the exponential acceleration of technology, there are countless ways to get work done. When considering "who" is the best candidate to complete a job, organizations are no longer restricted to full-time/part-time employees, contractors, and outsourced providers, but can now also engage the "gig economy," crowds, and automation—e.g., robotic process automation (RPA) and artificial intelligence (AI).
If you believe the statistics, 50% of workers will be part of the gig economy (where workers opt for projects or "gigs" over full-time employment) by 2020. Many are now choosing this way of working instead of a full-time role—which is a shift from the past where many members of the gig economy were working that way temporarily while in transition/searching for their next full-time role. I, for one, choose to be a "gigger" instead of a full-time employee as I enjoy the variety of projects, companies, and leadership teams on/with whom I get to work. It also provides me with the flexibility I desire while raising a young family. I choose my projects based on the strategic impact I can make on an organization, which is independent of my employment relationship.
Freelancers, or "giggers," as I like to call them, can be excellent candidates for short-term, time-boxed, well-defined projects. Hiring giggers can bring additional horsepower and infuse diverse thinking into a project or team. It is also a great way to keep retirees and their invaluable knowledge in the organization in a more flexible way…and access talent that has been sidelined due to mobility or schedule constraints. Companies that don't consider the gig economy as a strategic segment of their workforce risk losing out on some highly skilled and talented workers.
Guy: It is common for our clients to seek change agents to help spur innovation and creativity in their ranks, yet many of these hires end up not being successful—oftentimes for being the very disruptors that the company said they needed. What can employers do to help increase their success rate in hiring and retaining disruptive thinkers?
Naomi: I'll pull up a Raptors analogy for this one. Kawhi Leonard and Marc Gasol were both brought in to the Raptors franchise for deliberate reasons. They each have unique skills believed to improve the odds of the team going all the way. And it worked. However, bringing in disruptive talent—whether giggers or full-time/permanent—comes with risk. For talent to thrive, and not experience "organ rejection," thoughtful onboarding, including cultural assimilation and a commitment to inclusion, is a must. Otherwise, seemingly star "athletes" hired into organizations to spark innovation cannot do so because of the environment they are brought into or are not adequately prepared for. Onboarding does not stop at day 30, 60, or 90—especially in organizations that tend to employ a lot of "lifers," which often breeds a very distinct culture. Disruptive talent needs ongoing support to navigate the politics and relationships that inevitably exist in most if not all organizations. Companies need to be mindful about connecting these employees to the right mentors and coaches and also need to have the courage to eliminate roadblocks that could stand in the way of innovation.
Guy: Thank you for this, Naomi. Informative and thought-provoking as usual. 
If you are interested in hearing more from Naomi, please go to collaborativity.ca.