Successfully Integrating as a New Leader during COVID-19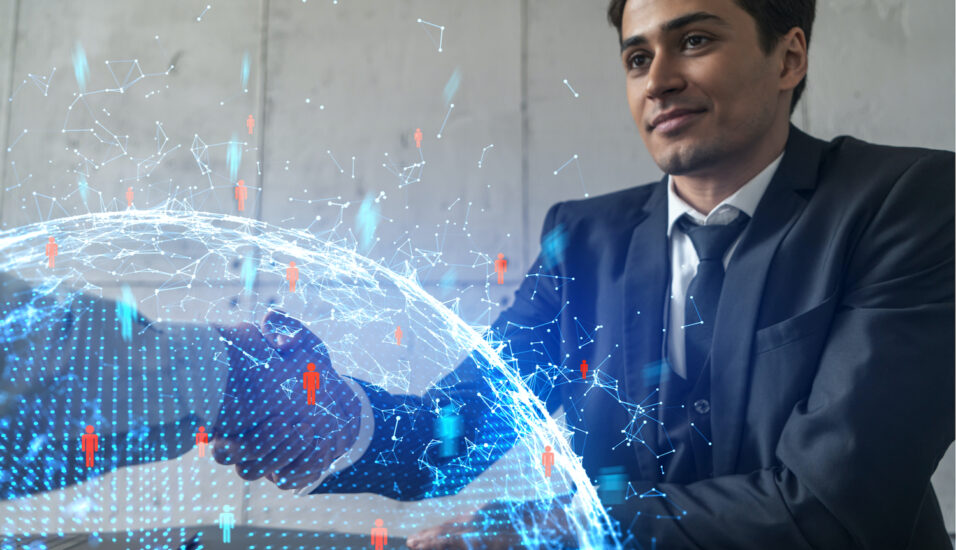 It's your first day of work as a newly appointed executive, and the anticipation is running high. As more and more people join the Zoom call on your screen, you smile and introduce yourself. Everything seems to be running smoothly, but you can't help but ask yourself: "How can I ensure I put my best foot forward? How will I gain the respect of my new peers in this virtual environment? How will I make the right impact on this organization?" Those questions are valid—the success of a new executive's career, and perhaps the entire organization, rests heavily on how well they integrate into their new role. Facilitating a successful integration earlier rather than later lays the groundwork for executives to forge alliances and drive the business strategy forward in the long term. And although successful integration has always posed a challenge to newly appointed executives, that challenge is only amplified when coupled with onboarding during a global pandemic.
Pandemic aside, studies suggest that up to 25% of executives promoted or transferred within the same organization will fail. The bulk of failed integrations are the result of an inability to build relationships. Other challenges known to derail new leaders are cultural misalignments, lack of clarity surrounding the role and expectations, failure to secure an early win, and inability to get up to speed on how the organization works. Ultimately, these challenges pose an even greater threat for today's newly appointed executives, who run the risk of a failed integration without in-person support and collaboration.
Given these known challenges, RHR has identified five key success factors for executives transitioning to new roles:
Role clarity: the comprehensive understanding of the role, mandate, and expected deliverables.
Building relationships: forming, defining, and strengthening connections to individuals in the organization to build credibility and candor.
Learning and navigating culture: understanding and adapting to the organization's values, beliefs, behaviors, and attitudes.
Early wins: securing an accomplishment up front to establish credibility in a new role.
Advanced learning: learning the business, the organization, and the people when stepping into a new role, as well as new skills required to carry out the role successfully.
Despite the ongoing pandemic, these success factors have, in fact, remained quite the same. What has changed are the methods leaders must employ to achieve those success factors, given that the global business landscape and ways of working have fundamentally shifted. Indeed, integration during COVID-19 has added a new layer of challenge to three of these five success factors in particular.
01
Building Relationships
Although water-cooler banter and corporate lunches may be a thing of the past for now, building relationships in an organization remains vital to the success of transitioning leaders.
Thankfully, technologies like Zoom have afforded us the luxury of (virtually) connecting with colleagues face-to-face. And considering that it enables us to connect with more people than we could in our own offices, Zoom opens new doors for heightened communication.
Newly appointed leaders should make a point to be intentional about forming personal connections in remote meetings. This is especially true early on in the onboarding phase. Although it's common to receive a list of company policies and procedures in the first few days of the job, onboarding executives are seldom provided insight into key strategies for forging relationships and navigating the culture in an organization. It is best practice for new executives to be proactive and intentional about this aspect of integration. Generally, it is sound advice for new leaders to overcommunicate and stay visible. Take opportunities to check in with individuals and small groups to avoid an information vacuum. Deliberately create small groups of five to six people to make space to hear varying perspectives and fresh ideas from colleagues.
Moreover, meet with your boss to create stakeholder maps. Leverage these maps to be strategic, targeted, and intentional about developing relationships. Identifying someone from that stakeholder map to act as a mentor to engage with one-on-one can open up further opportunities for deepening relationships. Whether you partake in weekly check-ins, virtual coffee meetups, or other activities, be intentional about regularly staying in touch to foster a sense of camaraderie, candor, and connection.
Other insights for building relationships virtually include:
Set up regular one-on-ones with key stakeholders. Keep the meetings even if it feels like there is nothing to discuss.
Set recurring meetings with direct reports. Defining a regular cadence will ensure everyone knows to expect touchpoints. You may also consider scheduling open office hours or a virtual happy hour in which anyone is welcome to pop in for questions and conversation. In a virtual environment, you miss out on opportunistic people coming into your office to say hello.
Take advantage of the new opportunities that a virtual working environment lends you. For example, a newly appointed executive in New York can meet with a stakeholder in Mumbai quickly and effectively, without ever needing to board a plane.
Show vulnerability. Ask for help when you need it.
Set the groundwork for a senior team effectiveness engagement (e.g., work on team purpose). Demonstrate that, yes, this can be done in a virtual environment.
Have a fun Zoom call with your team, perhaps with a puzzle, game, or virtual happy hour.
It should also be noted that although Zoom has become the standard for organizational communications, there is another tool at your disposal: the telephone. "Call people just to say hello; no business agenda needed," says Jeff Kirschner, partner and client manager in RHR's New York office. In the flurry of back-to-back Zoom meetings and virtual happy hours, it's easy to forget that a simple phone call can serve as a warm reminder of the value of a one-on-one connection.
New leaders will also benefit from asking for explicit role clarity and relationship expectations from their managers early on. Be proactive in asking to be included in key meetings and circulation lists. Granted, these action items are what would typically occur in the pre-COVID era—but in a virtual environment with no in-person contact, they're much more liable to slip through the cracks.
02
Learning and Navigating Culture
Understanding and adapting to the culture of an organization is crucial to the success of new leaders. Implicit rules and beliefs held by people in the organization can be subtle and are frequently communicated nonverbally, often through signs, symbols, and body language in the environment that can only be experienced while physically present. This means that learning the culture is even more challenging in virtual meetings, but by no means is it impossible.
Do your homework before stepping into the new role. (Of course, this goes without saying, pandemic or not). Read up on the organization's history, review employee bios, and scan organizational charts. Check Glassdoor to discover what kinds of things other people say about the organization and be prepared to ask explicit questions about culture as you are meeting with people. Discuss the company's values and behaviors. Cast a wide net when asking questions; reach out to the board, your predecessor, peers, consultants, investors, etc. Identify key stakeholders and check in with them frequently.
New leaders can also benefit from the following takeaways:
Early on, ask to join meetings even if they're not directly relevant to the role. Make yourself available and interested in your new role and even other ad hoc events you may be invited to. This is easier to do with tools like Zoom, which allow new leaders to seamlessly access meetings without disruption.
Meet with your boss to discuss whom you need to meet across the organization. Ask your boss to broker the invitation.
Find a mentor or someone who just integrated to discuss specific aspects of the culture.
Use tools like FaceTime to do "virtual tours" of facilities you can't visit.
Conduct team exercises around defining the culture, both espoused and actual. For example,  create a Stormboard to discuss the behaviors your organization would like to promote or extinguish, identify objectives to fulfill, and explore the ways in which the culture both advances and hinders company growth. Identify any patterns in your colleagues' goals and objectives regarding company culture.
Conduct listening tours and proactively reach out to people outside of your function. Ask questions such as: "What does success look like here? What helps people move up the ranks? What are things to absolutely avoid?"
Demonstrate respect for what has become before. Vocalize respect for what people have done.
Ask questions regarding rules or etiquette for virtual meetings. Does the company require formal dress, or is casual attire acceptable? What's the stance on using a Zoom background? When do people typically switch their video on and off? It is vital to pay extra attention to these subtle cultural factors in a virtual environment.
As a general rule, new executives should ask for feedback from their managers early and often.
Securing an easy win up front is critical for new hires to establish credibility in an organization. It is a key opportunity for executives to demonstrate their capabilities and prove they are worthy of the job. This doesn't mean new hires are expected to move mountains on their first day—but it does mean they should leverage the tools at their disposal to connect with colleagues and drive the company's mission forward in the early days of their tenure.
Trust the new team to highlight specific problems—focus on problems that others perceive.
Look for low-hanging fruit to gather a quick win, perhaps by leveraging a previous experience. Bring a best practice from your old job.
Operate with a sense of urgency. Don't let the perfect be the enemy of the good and don't wait until you have a perfect plan to communicate.
Build out explicit goals and plans for early wins with your manager and peer teams.
Celebrate successes with your team early and often.
Hold individual meetings with direct reports to discuss their career goals and objectives to generate feedback early on.
Driving a Successful Virtual Integration
Successful leadership transitions are challenging, and navigating those challenges during COVID-19 requires adaptability, tenacity, and empathy. In emphasizing these three key success factors, leaders will be better prepared to navigate the uncharted waters of integration during a global pandemic—and to serve their organizations with lasting, meaningful impact.
Newly appointed executives shouldn't have to navigate a virtual integration process on their own. With more than 75 years of experience in executive coaching, executive integration, and C-suite succession, RHR is here to help. Our executive services and succession model have played a critical role in helping executives gain a foothold in their new roles and establish candor, trust, and alliances with peers while driving mission-critical strategy forward.
"Understanding your strengths, weaknesses, and blind spots is even more critical while you're onboarding into a new role in a virtual environment," a financial services senior executive said recently. "Working with a coach can help ensure that you stay laser focused on addressing those blind spots while at the same time lifting your overall leadership game to a new level."
For more information, please visit us at rhrinternational.com.