Great Remote Leadership Part 1: Essential Behaviors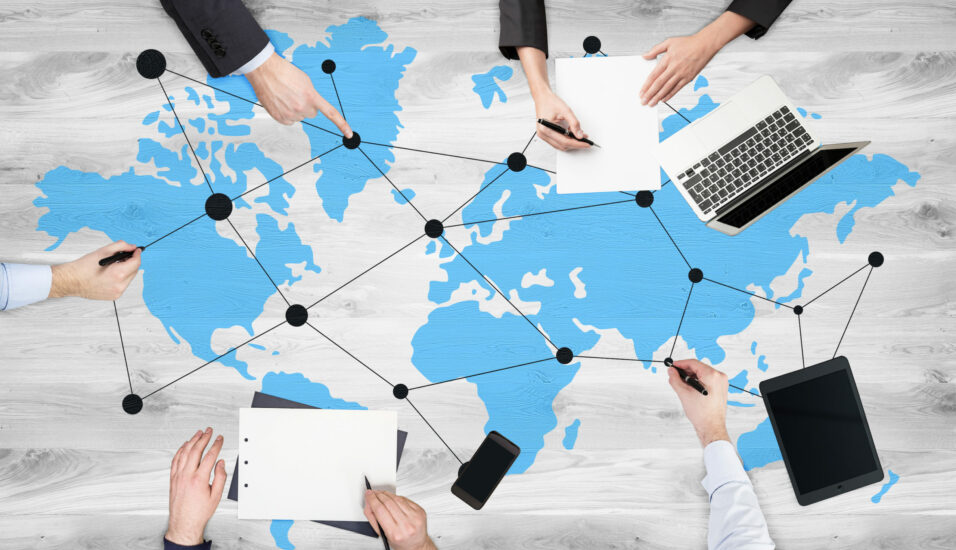 Leading geographically dispersed teams is difficult. Time and again, research and practice have demonstrated the challenges of overcoming physical distance, different time zones, and cultural disparities to engage teams and lead them to accomplish shared objectives. However, we recently worked with a large, high-tech company experiencing unique success engaging, motivating, and managing remote teams.
We studied this organization's employee-engagement data and conducted interviews with leaders who were particularly adept at remote leadership. We also reviewed findings from the academic literature to better understand the mechanisms behind their ability to be great remote leaders.
Overall, there were nine key practices that supported great remote leadership. In part 1, we'll cover the five behaviors demonstrated by great remote leaders, and in part 2, we'll look at four important management decisions these leaders make to enable these behaviors to have the most impact.
Clarify aligned goals. Every leader interviewed emphasized the need to ensure team members understood how their work connected to the broader team and to the company's strategic vision (as described by the CEO). One leader shared, "It's very easy for the remote team to be focused on their own success but not the overall objective of [the company]. . .you want them to have independent projects, but you also want them to see the connection to the overall objective for the group. . ." Other leaders suggested that the company can be a very "noisy" place and that part of their job was to help employees focus on the most important things—those closely tied to the strategy—and see the connectedness and value in their work.
Promote inclusivity. All the leaders lead teams across multiple time zones, often with eight hours or more difference among team members. Each mentioned the need to ensure that team meeting times are rotated to share the burden of "off hour" meetings across the team. While scheduling meetings was the most frequently mentioned challenge, leaders also highlighted differences in holidays, cultural workstyles, and language barriers. Leaders outlined some of the challenges inherent in leading culturally diverse teams (e.g., East Asian, South Asian, North American, Scandinavian, East European) within the context of an American company. One leader explained the need to approach cultural differences as a learning opportunity rather than trying to impose American culture on every location.
Share leadership. Research shows that remote leadership works better when leadership is shared with team members or informal leaders at the various locations. All leaders interviewed for this paper explicitly or implicitly cited their reliance on key team members at remote locations to coach and support other team members. Multiple leaders pointed out that local leaders don't necessarily need to be hierarchical leaders (i.e., holding a manager title) and could be someone more experienced and with a broader network beyond the location. Furthermore, team members were empowered to freely share their perspectives and use their own judgment to get the job done.
Build trust via competence. We know from research that building trust among geographically dispersed teams is difficult. When asked about building trust, leaders consistently said that trust at their company is based on demonstrated competence. One said, "Here. . .trust comes from proving it." They said it was important for individuals and teams to build a reputation through their ability to solve problems and get results. Some leaders even mentioned intentionally not stepping in with the solution and instead choosing to involve a remote team to create opportunities for individuals to have more input and demonstrate competence in a public way. All these leaders prioritize celebrating team accomplishments and recognizing exceptional achievements across the team. Additionally, many make a point of identifying experts in different areas and giving individuals opportunities to demonstrate knowledge and expertise to others.
Create connections. Most leaders referenced creating connection through a shared vision and better communications, but some leaders also highlighted a focus on building connections for remote teams. They explained that connections go in multiple directions: among remote teams, back to corporate, and with internal clients. Most leaders referenced informal interactions when asked about creating connectedness—bringing people together in face-to-face settings for lunches, dinners, and other team-building activities. One leader mentioned sending group-wide announcements to introduce new hires and to celebrate birthdays and anniversaries so team members who are not located together see one another's names and have another reason to reach out. Creating cross-team mentor pairings is another strategy mentioned to facilitate building informal relationships among team members. Some leaders described specifically creating opportunities to connect team members by organizing project teams across remote locations who may not otherwise have the chance to work together. Regarding creating a connection back to corporate, one leader stated that "the leader is the 'flag bearer' for the company." That is, the leader must syndicate the corporate culture out to each individual location and employee by sharing corporate updates and ensuring everyone understands and connects with the larger team.
In the next and final part of this series, we will address the remaining four factors highlighting the key decisions remote leaders have to make to facilitate great remote leadership.