Movers & Shapers Podcast Series
February 1, 2022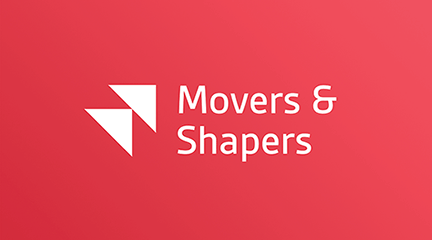 For over 75 years, RHR's mission has remained unchanged: to shape leaders who shape the world. In this series, we interview leaders on what has shaped them and their organizations.
Episode 1: You Never Arrive as a Leader
For the inaugural episode of Movers & Shapers we speak to RHR's own CEO, Dante Capitano. During the podcast Dante talks, very personally, about his journey, and explores what has shaped him as a person and as a leader. He also discusses the key factors that he believes will shape RHR in the years ahead.
Episode 2: Lifting Each Other Up
In this episode, Girls Inc. President and CEO Dr. Stephanie Hull chats with Deb Rubin, a senior partner and head of Board & CEO Services at RHR International. Stephanie shares how the values instilled in her by her family and her experiences as a woman of color have helped shape her as a person, as a mission-driven leader, and as an advocate for women and girls.
Episode 3: Embracing Conflict
The last couple of years has been a defining moment in our lives and for leaders globally. The playbook was thrown out the window, and leaders were left with two options: Work your way around the conflict or embrace it. Peter Fasolo, CHRO of Johnson & Johnson, believes for the betterment of the world, leaders should embrace conflict. In this episode, our Senior Partner David Astorino speaks with Peter about how leadership must start and end with purpose and why we should view our work as a pursuit of learning and understanding why things happen.
Episode 4: Storyteller to Leader
Storytelling is about being curious—being curious about how other people experience the world and using that as a starting point to understand their lives and stories. That's how Ben Steele, executive vice president and chief customer officer of REI, lives his life and leads his organization. In this episode, Joanna Starek, head of advisory services for RHR International, talks to Ben about his journey from storyteller to leader, how his experience was shaped by the unpredictable nature of events, and how that gave him the opportunity for intentional growth.
Episode 5: Neurodivergence and Innovation
Neurodivergence is often stigmatized and conceptualized as a disorder or disease, with discussion primarily focused on how it may limit an individual. There is another story to be told. What if we look more closely at the link between neurodivergence and the uniquely human capacity for invention? In this episode, Sir Simon Baron-Cohen, world-renowned professor of psychology and psychiatry and director of the Autism Research Centre at the University of Cambridge, talks to Orla Leonard, head of RHR International's Senior Team Effectiveness practice, about how the study of autism has shaped his work and life and how those who have been diagnosed with autism and other neurodivergent conditions have and will continue to shape the future of innovation.
Episode 6: The Dress Rehearsal Is Over
Things we see in the world that disturb or worry us and that we want to fix are in some way reflected within us. A recognition of this truth is what motivated Lindsay Levin to found Leaders' Quest, an organization dedicated to developing leadership mindset, skills, and wisdom. In this episode, RHR Senior Partner David Astorino speaks to Lindsay about the value of spending time with different people, about being present, and about how we can allow space for others without limiting our own space.
Episode 7: Work is Broken
When 80% of people are disengaged or unhappy at work, it's time we admit that work is broken. The pandemic brought on the great resignation, but preceding that was the great contemplation. The pandemic became a catalyst for what many had already begun to think about—the kind of life they want to live. Being unhappy at work is no longer a standard people are willing to accept. In this episode, RHR's Cristina Jimenez, partner and global head of Diversity, Inclusion & Belonging, speaks to Pa Sinyan, managing partner of Gallup EMEA, on a very human level about the role work plays in our lives and what the future of work might look like.
Episode 8: The Power of Paradox Thinking
Leaders are often confronted with strategic paradoxes: conflicting demands that are commonly viewed as either/or choices. Do you focus on social responsibility or maximize profits? Are we dedicated leaders or dedicated caregivers? Do you change an individual or change the system? In this episode, RHR's Adam Magerman, Diversity, Inclusion & Belonging consultant, speaks to Wendy Smith, professor at the University of Delaware, co-founder of the Lerner Women's Leadership Initiative, and one of the authors of Both/And Thinking, which is about understanding and implementing the paradoxical mindset framework. They explore how moving from either/or thinking to both/and thinking can help leaders and organizations expand their view of what is possible and create psychological flexibility, leading to greater creativity, well-being, and decision-making impact.
Episode 9: A Leader's Health is Wealth
The best way to optimize a company is to optimize the individuals within it. Health is a major component of that. In this episode, RHR Senior Partner David Astorino speaks to Matthew Dawson, chief executive officer of Wild Health, an organization fueled by a passion for unique and personalized healthcare. Matthew talks about the value of investing in yourself as a leader with the same sense of urgency you have when investing in your infrastructure. He makes the case that good nutrition, exercise, and mindfulness will not only make you feel better physically and mentally but will also produce a positive return on investment within your organization. In other words, how you take care of yourself as a leader will directly translate to your organization and the progress you make together. This self-awareness process for any leader starts by revisiting your personal values, the experiences that have shaped you, and the risks you have taken that led you to where you are today.
Episode 10: Don't Let Winning Hold You Back
Is there more to winning than crossing the line first? Three-time Olympian and international diplomat Cath Bishop examines our obsession with winning and questions our notions of success. Is that it? is the surprising reaction of many a medal-winning athlete. It's an experience mirrored in the corporate world, where lasting value matters more than a moment of success. Experiences we gained along the way, moments we were tested, and relationships we built add meaning to the medal, says Cath. She and Orla Leonard, a team performance specialist at RHR International, bring a sporting lens to team culture and explore how collaborative, cooperative, experimental team dynamics boost rather than diminish competitiveness.
Episode 11: Bringing the CEO's Whole Self to Work
As the line between authentic corporate leadership and personal life blurs, how should CEOs balance the two? In this episode, Melissa Smith, chair and CEO of global commerce platform WEX, talks to RHR International's Lisa Carey about bringing your whole self to work. Because CEOs are increasingly expected to have an opinion on issues that weren't even on the radar 10 years ago, how should they decide when to take a stance? As a CEO, mom, and athlete, Melissa talks frankly about navigating the dual role of motherhood and CEO, the importance of managing stress, and how her experiences have shaped her as a leader and shaped the culture at WEX.
Episode 12: Why Being Yourself Is a Competitive Advantage
It's the sum of our unique experiences as people that helps us become better leaders, says banker-turned-chief people officer Kenny Gardner. In this episode, Kenny, who is the CPO for DaVita Kidney Care, talks to RHR Senior Partner and Global Head of Diversity, Inclusion & Belonging Cristina Jimenez about purpose and embracing his journey as a leader.
For Kenny, staying true to his best self carved a path for a successful career, a diversity of experiences, and the opportunity to build bridges for a diverse range of people. Having walked in many different shoes on his leadership journey, which was rooted in modest beginnings, Kenny's North Star is to create a company where the best and brightest can achieve their dreams. That starts with diversity.